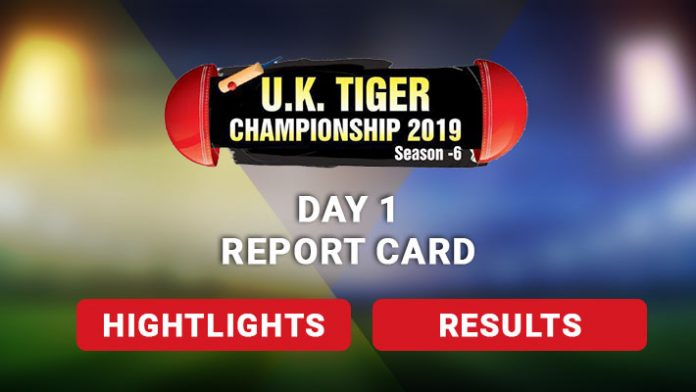 The 2019-20 tennis ball cricket season kicks off at Dattaji Salvi Stadium in Ghatkopar, Mumbai with the match between Raina XI, Andheri, and Antara Logistic, Kamote (SA Bramha). The much-awaited and anticipated season's maiden tournament enjoyed by tennis cricket fans all over the world.
Also Watch: Thrilling Last Over | Ansh XI Raigad vs Sakshi Enterprises (Ding Dong)
UK Tiger Championship 2019 on its first day saw a couple of tight and thrilling matches. Sumeet Dhekale's Kiran XI, Shirvane was close to winning but experienced Sakshi Enterprises (Ding Dong) made no mistake to take game to the home. While in second round Krishna Satpute starrer Ding Dong won the match on final delivery against another star featured team Ansh XI from Raigad when Abhijeet Dudhe successfully defends the total despite one no-ball. In the last game, Trident, Navi Mumbai was on upper-hand against the Sakshi Enterprises (Ding Dong) in which Amroz Khan takes the first hat-trick of the tournament. Though Trident, Navi Mumbai is into the semi-finals, day two will be another contesting day in the tournament.
Match No. 7 Trident, Navi Mumbai vs Sakshi Enterprises (Ding Dong)
Ulhas Kamthe organized tournament featured voices from various parts of Maharashtra including Kunal Date, Jayesh Bhosale and local boy Chandrakant Shete in the commentary box.
Results Day 1
| | | |
| --- | --- | --- |
| Match No | Match | Winner |
| 1 | Raina XI Andheri vs Antara Logistic Kamothe (SA Bramha) | Antara Logistic Kamothe (SA Bramha) |
| 2 | Varad Gaodevi Navi Mumbai, Uran vs Trident, Navi Mumbai | Trident, Navi Mumbai |
| 3 | Umesh XI, Khar vs Ansh XI, Khairane, Raigad | Ansh XI, Khairane, Raigad |
| 4 | Kiran XI, Shiravane vs Sakshi Enterprises, Inampuri (Ding Dong) | Sakshi Enterprises, Inampuri (Ding Dong) |
| 5 | Antara Logistic Kamothe (SA Bramha) vs Trident, Navi Mumbai | Trident, Navi Mumbai |
| 6 | Ansh XI, Khairane, Raigad vs Sakshi Enterprises, Inampuri (Ding Dong) | Sakshi Enterprises, Inampuri (Ding Dong) |
| 7 | Trident, Navi Mumbai vs Sakshi Enterprises, Inampuri (Ding Dong) | Trident, Navi Mumbai |
Trident, Navi Mumbai is through the semi-finals which will be on the occasion of Dussehra (October 8, 2019)
Sandesh Parte Real Life Incident Story in Speech