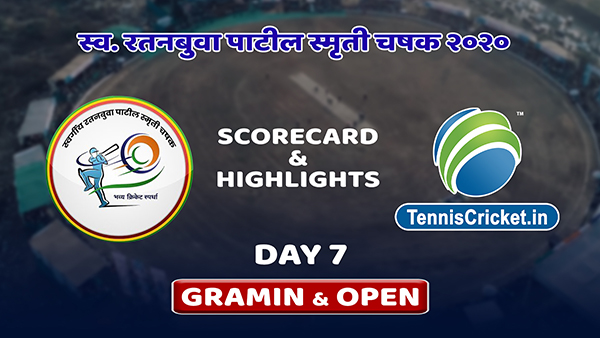 Dombivli: The day belonged to Vikrant Kene (VK) Pratishthan as they jumped to the top three in the open lot. Again it was the day in favour of the batting second-team except for VK Pratishthan. The first two matches were from the Gramin lot. The other seven matched played were from an open lot and big players like Sultan Khan, Ajit Mohite, Amol Mhatre, Girish Kochrekar were the attraction of the day.
The analysis
In open lot, baring VK Pratishthan, all other matches ended in favour of the team batting first. Which means bowling in the second innings was crucial for the result. While VK Pratishthan was 100 per cent in their all department.
Star of the day
Mohan KC was the star of the day. He played three games today and picked 10 wickets with one five-fer (5-18) against Jolly XI.
Results from day 7 Gramin Lot
| | | |
| --- | --- | --- |
| Sr. No. | Match | Result |
| 1 | Agasan vs Shilgoan | Agasan won by 12 runs |
| 2 | Waklan vs Agasan | Waklan won by 7 wickets |
Results from day 7 Open Lot
| | | |
| --- | --- | --- |
| Sr. No. | Match | Result |
| 1 | Star CC Dadar vs Kushala XI | Kushala XI won by 5 wickets |
| 2 | Rohit XI vs Vikrant Kene Pratishthan | Vikrant Kene Pratishthan won by 32 runs |
| 3 | Prisha XI Ashte vs Aryan XI | Aryan XI won by 8 wickets |
| 4 | Savkar XI vs Jolly XI | Jolly XI won by 9 wickets |
| 5 | Kushala XI vs Vikrant Kene Pratishthan | Vikrant Kene Pratishthan won by 15 runs |
| 6 | Aryan XI vs Jolly XI | Aryan XI won by 8 wickets |
| 7 | Vikrant Kene Pratishthan vs Aryan XI | Vikrant Kene Pratishthan won by 24 runs |