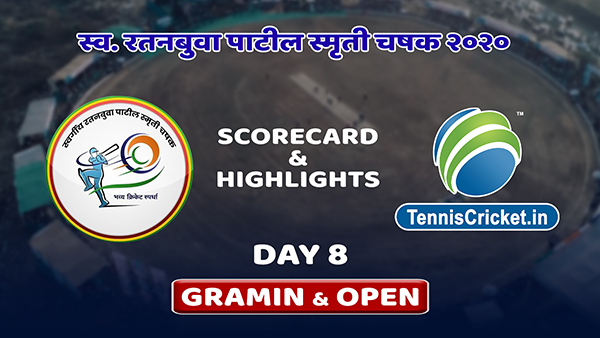 Dombivli: Records, records and records. It was the day full of records. Highest team total, best ever partnership, individual score, number of supporters in the stands, best ever viewership over YouTube and much more. The eighth day ended in a high note of Late Ratanbuva Patil Smruti Chashak 2020.
Premier Colony ground witnessed best-ever crowd record in the latter half of the day when Thane and Raigad played a friendly game which started around 3:45 PM in the afternoon. In the first half of the day, Ajaz Qureshi scores unbeaten 73 and partnered with Krishna Satpute for the unbeaten 110 runs partnership. Their hope in the tournament was ended by Shahid Shaikh's Bhargav XI (Winner Sports) in round two.
The analysis
To the analytical note, almost every game was a pressure game and that was seen in the result of games. Chasing on this track (on the 8th day of the tournament) wasn't that easy. Three out of six games ended in team batting first and that too with quite a decent margin.
Star of the day
Ajaz Qureshi won the hear of entire Late Ratanbuva Sports Complex when he smashes unbeaten 73 off just 21 balls with seven fours and half a dozen sixes.
Results from day 8 Gramin Lot
| | | |
| --- | --- | --- |
| Sr. No. | Match | Result |
| 1 | Khambalpada vs Nandivali | Nandivali won by 7 wickets |
Results from day 8 Open Lot
| | | |
| --- | --- | --- |
| Sr. No. | Match | Result |
| 1 | Aditya XI vs Shivshakti Pale | Aditya XI won by 30 runs |
| 2 | Suyog Sports Dapoli vs Bhargav XI | Bhargav XI won by 6 wickets |
| 3 | Rishi XI vs Naksh XI | Naksh XI won by 4 wickets |
| 4 | Arya XI (Khardi) vs Sai XI | Arya XI (Khardi) won by 20 runs |
| 5 | Aditya XI vs Bhargav XI | Bhargav XI won by 4 wickets |
| 6 | Naksh XI vs Arya XI (Khardi) | Naksh XI won by 40 runs |
Results from day 8 Thane vs Raigad
| | | |
| --- | --- | --- |
| Sr. No. | Match | Result |
| 1 | Thane vs Raigad | Raigad won by 5 runs |