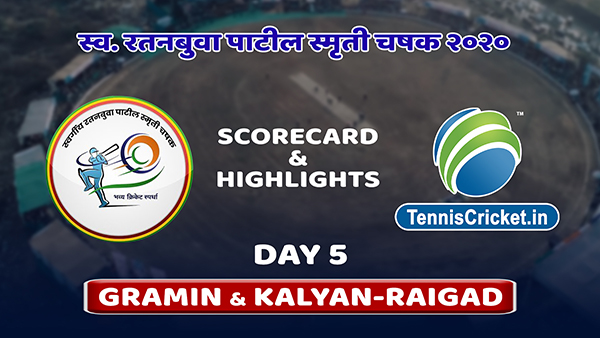 Dombivli: Big players, big teams, lowest scores on board, hat-trick, fifty and much more happened on the fifth day of the Late Ratanbuva Patil Smruti Chashak 2020. Matched were played from the remaining Gramin lot and Kalyan-Raigad lot. From the Gramin lot, Desai team beats Ravindra Sante's Kole team to become a first entrant for the semi-finals.
The analysis
In the first of the day, it was dominated by teams batting first. The chasing was not that easy. Also, it was the first for the Kalyan-Raigad lot. And thus impacted the results in the latter half of the day. Overall, it was again a mix-matched day and wind in the second half resulted in the miss-calculated shot selection.
Stars of the day
Lots of things happened on the fifth day of the tournament. Siddhu Bhoir (Nagoan) scores the second fifty of the tournament. He scores unbeaten 51 (19b, 6×6) against Bhopar. In Kalyan-Raigad lot, Chambharli's all-rounder Yogesh Jambhale takes hat-trick against Nevalipada. It was a fourth hat-trick of the tournament so far and first from the Kalyan-Raigad lot.
Results from day 5 Gramin lot
| | | |
| --- | --- | --- |
| Sr. No. | Match | Result |
| 1 | Desai vs Pisavali | Desai won by 24 runs |
| 2 | Nagaon vs Bhopar | Nagaon won by 24 runs |
| 3 | Nagoan vs Kole | Kole won by 8 wickets |
| 4 | Kole vs Desai | Desai won by 19 runs |
Results from day 5 Kalyan-Raigad Lot
| | | |
| --- | --- | --- |
| Sr. No. | Match | Result |
| 1 | Chambharli vs Vashi | Chambharli won by 33 runs |
| 2 | Kevale vs Nevali Pada | Nevali Pada won by 6 wickets |
| 3 | Kundevahal vs Vadavali (Atali) | Kundevahal won by 24 runs |
| 4 | Darave vs Nere | Darave won by 7 wickets |
| 5 | Chambharli vs Nevali Pada | Chambharli won by 10 wickets |