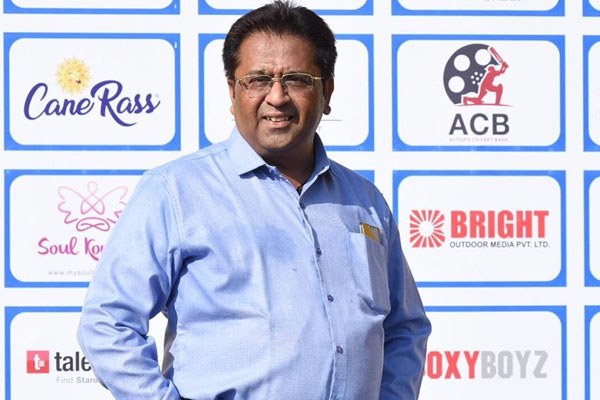 Haresh Pandya started his cricket commentary career in 1989 at an underarm box cricket tournament in Daulat Nagar Borivali East organized by Vajra Cricket Club and soon covered Suraj Cup at Dahisar Anand nagar and shot to fame catching eyeballs of tennis cricket.
He was spotted by Presi Uncle who was very impressed with his work and started promoting him. Overarm cricket was also his passion and soon he started getting invitation for local cricket tournaments in Borivali and Dahisar.
Major breakthrough came for him in 1990 when he covered Late Rajan Nair memorial cup at Tilak Nagar Chembur followed by Raj Kapur memorial tournament in 1995 and 1997. Haresh shared the stage with stalwarts like Suresh Saraiya Milind Wagle and interviewed Harsha Bhogle at the venue on behalf of the commentary panel . Baba Rodrigues was so impressed with the work that he specially mentioned thanks while he was interviewed on AIR by Haresh in 1997. In the meantime came a big tournament Rustom Mandalia memorial trophy where he met Babloo alias Abdul Aziz Barudgar who invited Haresh and Legendary commentator Bala Subramaniam where they met Mr Sanjay Potnis messiah of tennis ball cricket. Soon after rocking the tournament Mr Vinayak Raut invited him for MLA Cup and it was made successful and a grand felicitation at the auspicious hands of Uddhav Thackeray at Lions Club of willingdon crescent ground in Santacruz west. Mr Sanjay Potnis started inviting him to all his shows since then.
Satish Kurup who became friend of Haresh at Bhayandar during a tournament recommended name to Pradeep Jadhav who was so impressed that he recommended his name to AIR and that opened up an avenue of radio program in hindi called Khel patrika where he interviewed various sports men and women for 20 minutes every Monday. He made his debut in 2000 for Ranji trophy Semifinal on Radio where Mumbai played against Tamil Nadu with major test players like Sachin Tendulkar, Vinod Kambli, Robin Singh, Hemang Badani, S Ramesh played and Suresh Saraiya named him as CHABUK and complimented him on behalf of all journalists and broadcasters.
He was also able to meet the GOD of cricket on 13th Apr 2000 while the match was on courtesy to then physio Dr Aijaz Ashai. Haresh covered Ranji trophy Irani trophy and first class matches and India new Zealand ODI at Brabourne stadium. He shared TV commentary with legends Anshuman Gaikwad and L Sivaramakrishnan. In 1999 Presi Uncle introduced him to Legend of Bhiwandi Vilas R man who organized biggest tennis cricket tournament in the world by name Nagardhyaksha chashak/ Mayor Cup/Pratibha Vilas.His association with Challenge sports is long lasting for past 17 years . Haresh can do commentary in Hindi Gujarati English and Marathi fluently and has met lot if legends throught his career.
Supremo Cup is another feather in his cap where Mr Sanjay Potnis has reposed trust and confidence in him for past 20 years and has been a broadcaster since inception of Supremo Cup. He has done leather ball/ tennis ball and rubber ball matches at corporate levels and also throughout Maharashtra and India. He has also covered Famous Grouse Rugby / Santosh Trophy Football/Agakhan Cup Hockey and Shooting ball for AIR and DD sports. Haresh paired with Bala subramaniam and are successful pair of commentators since last 3 decades.
Personal Detail:
Full Name: Haresh Jaydevprasad Pandya
Date of Birth: 01 June 1968
Current City: Mumbai
Profession: Officer an MNC Company
Major Tournaments: Supremo Trophy, Bali Trophy, Ratnagiri Champions Trophy, 10PL, Deepak Shah Memorial Trophy, Shakti Chashak, Nagarsevak Chashak Shiravane, Pratibha Vilas A1 Legend Trophy
Favorite Players: Rishi Vaidya, Umar Khan, Shreyas Indulkar, Omkar Desai, Sumeet Dhekale, Nazim Gully, Usman Patel