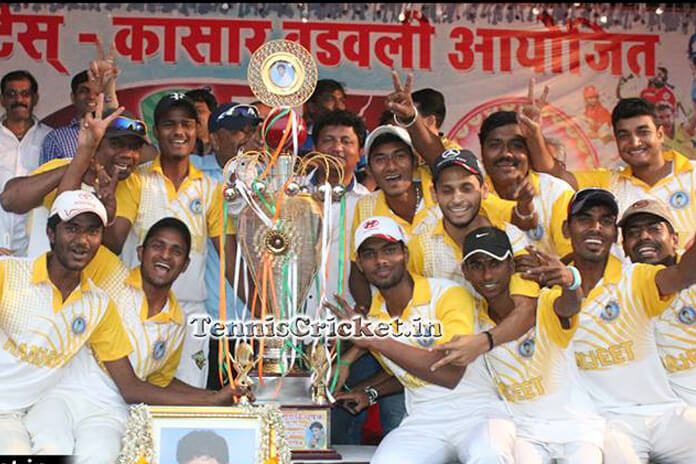 Tournament Name :
Ranjeet Chashak – 2016
Location : Kasarwadavali, Thane
Date : 7 to 10 January 2016
Organised by : Ranjeet Sports
One of the biggest tennis cricket tournament Ranjeet Chashak 2016 which was held in the memories of Late Ranjeet held in Thane in the area of Kasarvadavli. This was the 2 year of this tournament. The tournament was organized by Ranjeet Sports and Ranjeet Foundation.
Team from Thane area as well as from rural areas had participated in this tournament. By defeating all teams top three teams won the prizes of the tournament.
Final Match was between team One Site Vartaknagar and team Sonuaai Maruaai Balkum. One Site Vartaknagar won the first prize of the tournament of rupees 1,00,000/- and a big trophy. And second prize of rupees 50,000/- won by Sonuaai Maruaai team.
Prize Ceremony
| | | |
| --- | --- | --- |
| First Prize | One Site Vartaknagar | Rs.1,00,000/- And Trophy |
| Second Prize | Sonuaai Maruaai Balkum | Rs.50,000/- And Trophy |
| Third Prize | Poshmatra Sports Bhayandarpada | Rs.20,000/- And Trophy |
| Man Of The Series | Arun (Balkum) | Rs.5,000/- And Trophy |
| Best Batsman | Tejas (Bhayandarpada) | Rs.5,000/- And Trophy |
| Best Bowler | Ravi (Thane) | Rs.5,000/- And Trophy |
| Best Fielder | Pravin (Bhayandarpada) | Trophy |
| Discipline Team | Shendoba Sports | Trophy |