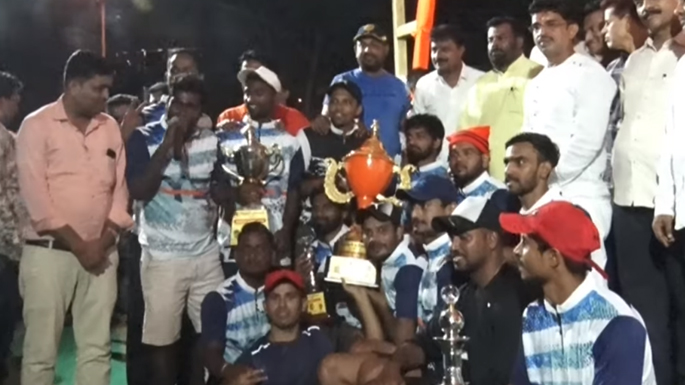 In an over 200 mm rain Navi Mumbai Tennis Cricket fans saw wild-card entrant Riyan XI Dombivli as a new champion
Navi Mumbai (Correspondent): Four days, heavy rain, 25 matches, and a wild-card entrant emerged as a winner of prestigious tennis ball cricket tournament in Navi Mumbai – Nagarsevak Chashak Shiravane. A rainy tournament organized by local corporator Shree Dnyaneshwar Sutar from Shiravane was watched by over three lakh users over the course of four days.
The beauty of rainy cricket which is being played by rubber ball witnessed by the fans of Navi Mumbai and across fraternity in continuous heavy rainfall. The players across the Maharashtra state were part of this tournament including some of the members from Team India's successful ICC Criiio cup 2019 campaign earlier this month in London, England
In the one-sided final, Haresh and Mukesh fulfilled their duties as openers when they put 36 runs for the first wicket in just 12 balls before Mukesh (17 6b, 1×4, 2×6) was caught by Sanmesh off the Rupesh's bowling. But his other partner Haresh took the charge and settled a decent score for Riyan XI. Haresh (47* 17b, 1×4, 5×6) magnified Riyan XI innings with his unbeaten know to 93 for just one in their five overs quota.
VIDEO: Watch Player of the Tournament Mukesh Gaikar's batting
In reply, Sundar Pratishthan didn't look ambitious to take hands on the trophy. Their openers managed only two runs in first over. Pintu Parcha and Bhavesh who are known for their big hits were controlled by Deepak who bowled that first over. From there, Riyan XI took the complete charge and restricted Sundar Pratishthan for just 38.
Awards:
30-Plus
Winners: Sanpada
Runner-up: Bonkode XI
Best Batsman: Ajay Patil (Sanpada)
Player of the Tournament: Jitu (Bonkode)
Gramin Group
Winners: Gaondevi Darave
Runner-up: Belapur
Best Batsman: Siddhesh (Belapur)
Best Bowler: Sahil Divekar (Belapur)
Best Fielder: Dheeraj Bhoir (Gaondevi Darave)
Player of the Tournament: Sachin Naik (Gaondevi Darave)
Open Group
Winners: Riyan XI Dombivli
Runner-up: Sundar Pratishthan
Player of the Tournament: Mukesh Gaikar ( Riyan XI Dombivli)
Best Batsman: Harish Mirkute (Riyan XI Dombivli)
Best Bowler: Sachin Seth (Sundar Pratishthan)
Best Fielder: Rushi Bhoir (Riyan XI Dombivli)
Sixer King: Mukesh Gaikar (17 sixes – Riyan XI Dombivli)