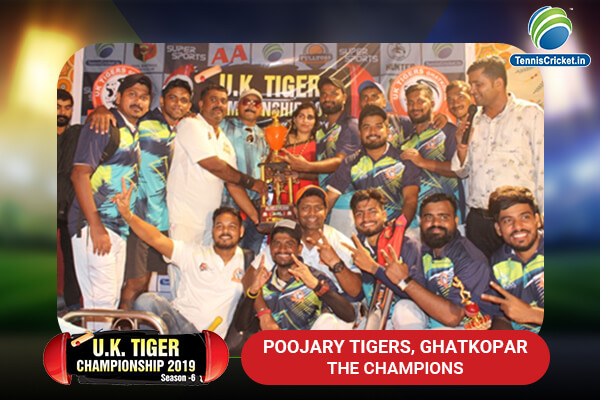 Mumbai: In a kicked-off season of tennis ball cricket here in Ghatkopar, Mumbai, the local team Poojary Tigers emerged as season 6 winners beating open lot team Trident, Navi Mumbai by 7 wickets.
Trident, Navi Mumbai on the first day, Suyog Sports (Sandy SP) on second day and Poojary Tiger from inter Ghatkopar lots on third and final day were progressed to the top-three contest. In the semi-final Trident, Navi Mumbai defeats Sandy SP and they met Tigers who advanced through the bye.
In a four-overs per side final, it was expected an easy win for Trident, but local Tigers were too good in the bowling department restricting Trident for 38 in their innings. Tigers lost two wickets in two balls in their first over without scoring a run were left in shock when third wicket falls when scorecard was tickling just five on the board. But dignity had different plans for them. After sending both the openers of Trident to the pavilion, Mahesh Hulawale took charge of his team in the bowling department and scores unbeaten 20 in eight balls with two sixes and one boundary. The last over equation for Tigers was 16 from 6 and Ayub Shaikh made a huge mistake bowling no-ball on first delivery of his over which landed over the fine-leg for a six. The rest job Mahesh finished sweetly in next three-ball to keep trophy home in Ghatkopar.
Brief Scorecard: Trident Navi Mumbai: 38/6 (4), Prathamesh Pawar 17(9), Akhtar Shaikh 9(8), Mahesh Hulwale 2-9 (1) lost by 7 wickets to Poojary Tiger 40/6 (3.3): Mahesh Hulwale 20*(8), Kailash Kalekar 11*(8), Ravi Bumbak 3-5(1)