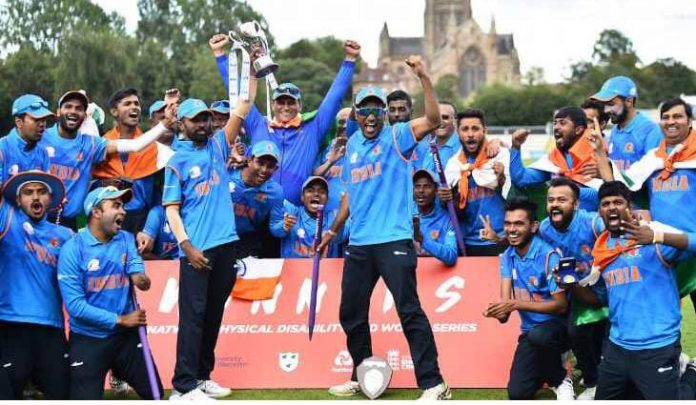 In India, cricket is the first priory. Though it is Test cricket, limited over cricket or even gully cricket. Crowd not just loves men's cricket; they love everyone who plays cricket.
Indian cricket fans will never forget 2019. It was a mix and match year for cricket fans. First, in July India's men's team who was the main contender to lift the World Cup was beaten by New Zealand in the fascinating semi-final. And next month India's Physically challenged team won the first-ever Physical Disability World Series by beating host England by 36 runs. And the hero of the prestigious trophy was none other than Dombivli's Ravindra Gopinath Sante. A player who started his career as a Gramin tennis cricket playing for his village Kolegoan shone in the World Series with a man of the match in final against England.
When he was eight months old, an injection given by a local doctor had created complications. It took a while for his family to realize that problem. To tell you, his right hand is paralyzed. At those times, a doctor had suggested cutting his right hand but family opposes.
At an early age, he started playing tennis ball cricket for his village. There were no intentions for playing leather cricket at that time. Like other village fellows, he began playing tennis ball cricket. After some time, he heard from somewhere that cricket also being played by a physically challenged cricketer. Somehow he got connected to Virar based club under the observation coaches like Vivek Kadam, Bharat Mistry, and Pagdare and the journey to England started from there.
Being a handicap since childhood, challenges were everywhere. Though it is in school or in his village. But he never let himself down. The will power made him a hard-working guy and his hard work pays off. He used to wake up at 4:30 early in the morning and used to catch 5:45 AM early morning train to Virar just for coaching. After practicing in the club he used to catch the same train during his return journey home. A toll Naka employee had the provision to work as per his convenience to pursue his cricket coaching and he didn't forget to mention Katai's Arjun Patil's name during his journey. Arjun Patil gave him a free-hand during his tenure as a toll Naka employee compared to other employees.
His family, especially dad helps him a lot in his cricketing career. Father Gopinath Sante never forced anything to his handicapped son. Ravindra was fairly good in his studies and that impresses his dad. Playing a tennis ball cricket, with his outstanding performances, he began gaining popularity in nearby locality and that helped his father to focus his son's cricketing career. In Gramin tennis cricket, if you play well, you will be a hero, if you are in bad form, you will be disappeared. That ticks his mind and he started focusing more on leather cricket. But he continues playing tennis ball cricket as it helped him to prepare for outstation tours for Maharashtra side and for the national side.
On national duty, Ravindra waited for his turn during Pakistan's tour to India in 2014. He didn't get any chance in that series. But South Africa tour made him a fixed member of the Indian dressing room. His 35-ball 103 in the fifth of six-match series was the turning point in his career. Being a medium pacer bowler, he hot hands-on bat in the middle order and he made most of it.
"I never thought I will play for India. Just for my passion, I started playing cricket in my village and then in college but playing for India was not even in dreams," He mentions with curiosity. "With God's blessings and family support, I am today what I am. I remember back in 2012 playing a local tennis ball cricket tournament in Dombivli, all the match prize was declared to donate for physically handicapped and cancer patients. Then Dombivli corporator Vikas Mhatre had organized that tournament. Commentator Prasad Parab requested organizers for an exhibition match between handicapped players. Ravi Patil then introduced me to the Virar club for the next stint. I performed well in that exhibition match. And from that point, my leather cricket journey started. To be honest, nobody asked me a single penny there in Virar for coaching. From kit to ball Ravi Patil provided me everything for my dream. I never thought I'll play for India." Sante says this with a smile on his face.
Youth should focus on leather cricket along with tennis ball cricket
Unlike leather cricket, tennis ball cricket is not an authorized sport by government authority. During his conversation, he suggested youth to focus on leather cricket for a career perspective. After some age, you may find it difficult to survive. He gave an example of an ex-tennis ball cricketer who is driving auto-rickshaw for his living. The message is simple. Either be an extra-ordinary player like Sumeet Dhekale, Krishna Satpute, Yogesh Penkar, etc who are playing tennis ball cricket all over the world or try out yourself in leather cricket. There are some players who balance their cricketing career in their corporate life, leather cricket and tennis ball cricket. To name a few; Ankur Singh, Dhekale, Yogesh Pawar.
Gramin tennis cricket association brought discipline
"If you compare the era before Gramin tennis cricket association and now, you will find so much difference. The discipline required in the Gramin tennis cricket has been brought by this association. This is good for tennis ball cricket and youth must take advantage of it. Pramod Mhatre, Vinod Patil took initiative and everything rocked from then." He told.
Vinod dada helped me a lot during World Series
When Sante was named in first-ever Physical Disability World Series 2019 there was a lack of funds to buy a fresh kit. The matches were being played in England. He requested help from Gramin tennis cricket association president Vinod Patil and Vinod dada without any further due offered help to Sante. Vinod dada helped to buy the best quality kits and Ravindra bought trophy to home.
Fitness is key for any athlete
There have been cases tennis ball cricket players suffering serious injuries even death in cases due to improper diet and lack of fitness. On being asked, Sante said, "Youth should focus on their fitness along with the game. If you ignore fitness it will be very tough for you to play under the sun. Gramin tennis cricket is being played all day and night and young players are ignoring their diet and fitness. Like leather cricketers, young generation cricketers should carry instant energy well and drink with them while traveling."